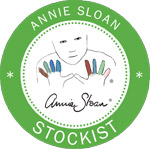 *Stock Update*
We now have all colours of paint in stock! Including 4oz. Sample Pots!

We are Stockists of the full line of Chalk Paint™ decorative paint by Annie Sloan.
Annie Sloan developed her now famous decorative paint, Chalk Paint™, over 20 years ago to answer the need she had for a versatile paint that would have many uses from acting like limewash to looking like old painted furniture. She called it Chalk Paint™  because of its beautiful velvety, matte finish.
With a colour palette inspired by 18th and 20th Century decor and design, you can easily mix the colours together to extend the range. Chalk Paint™  is eco-friendly too. It contains extremely low volatile organic compounds (VOCs) and has no odor.
For more info feel free to contact us at
info@filmgo.ca or 604-456-0515